35+ YEARS
of embroidery experience

FREE DESIGN HELP
we have you covered

WE SHIP WORLDWIDE
£7 Shipping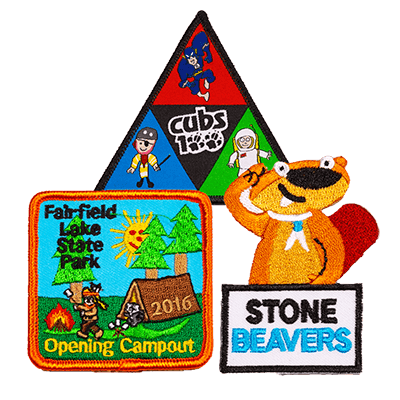 Your Scout Patches and Girl guiding patches can be delivered fast in 7-10 days at low prices. We have producedhigh quality scout patches and Girlguiding patches. We have also supplied badges to overseas organisations such as Pathfinders. Badges make wonderful mementoes to mark achievements, celebrations, jamborees and camps. We have produced some fantastic badges from an artwork that the chilldren have hand -drawn . These include badges for Cubs, Beavers, Explorers, Rainbows, Brownies, and Rangers.
To get started with your scout badges or Girlguiding badges all you need to do is send us an image – This can be an artwork file or even a hand-drawn image and we will take care of the rest. Nex step is to decide what type of badge you want. Sublimation badges are currently the top choiceSublistitch badges are printed but can have the border or some main text embroidered on top of the print. These along with our embroidered badges, can be delivered in about 7-10 working days after approval. The minimum for these 3 badges is just 25 pcs per design
Our woven badges can be delivered in about 3 weeks from approval.
Decide how you'd like to attach the badge to the uniform. There are three methods:
Our art team will send various mock-ups for your approval – you will have 100% control over this to ensure the product perfectly matches your initial design.
What is the minimum order?
The minimum order is from 25 upwards per badge, depending on the type of badge you choose, however, you can place a larger order and take advantage of one of our discount offers.
What type of badge would you recommend for Scout & Girlguiding badges?
Sublimation badges and Sublistitch badges are the most popular ones lately. Embroidery badges are also popular; if you have a solid colour background, choose twill from our colour chart. Satin borders are more popular than merrow borders as it is a much cleaner finish and help to hand sew badges onto uniforms, neckerchiefs, camp blankets or merchandise; for larger orders, consider sublimation badges for your next jamboree as these are the fastest and the most cost effective.
What is the difference between these badges?
We have made simple videos showing the different types of badges.
Can we match an existing badge or direct embroidery design?

Yes! All you have to do is let us know the specifications and the thread colours by stating the Pantone references or by using our high-resolution shade cards. Alternatively, post the existing badge to us, and we'll match the colours as closely as possible for you.
How soon can I expect my order?

Embroidered badges, sublimation badges and sublistitch badges are shipped within 10-12 working days.BUT we can ship them faster if required. Repeat orders are shipped within 7-9 working days. Please allow 2-3 weeks for woven patches. Specialists' badges like silicone metaprint tpu etc will vary from 15-20 workingg days
Can I see a photograph of the finished badge before I confirm an order?

We have a 2 stage approval process. In the first Digital Mockup step, we create a photograph of a computer-generated mockup, the idea is to create a free artwork mockup (along with a price quote) Once you are happy with the mockup as well as the pricing press approve.
This will trigger the production/physical approval step, and we will create a photograph of your actual stitched-out badge. This ensures complete peace of mind as you will see exactly what youre going to get, or you can request up to 4 sample badges to be sent to you (please note any changes at this stage will be chargeable).
Once you approve the production sample we will start the production immediately.
Can I talk to a live person?
There are 7 of us in the Brentwood office and we are always happy to talk you through the order process or discuss badge details.
Can I get a sample of my badge before I order?

99% of our customers are happy to first and second approve from a photograph of their badge. If you want to order a sample badge before a whole order then the cost is as follows:- £30 + VAT + tracked and signed postage from Brentwood UK to your destination. Please note that an actual physical sample request adds about seven – nine days to your final delivery.

What files types of my image are accepted?
A high-resolution file of an aerial image of your badge design is required; ideally jpeg, png, or pdf. Please let us know if you have any other files.
Ready to Start?
We are trusted to delivery quality badges by over 10,000 companies worldwide.