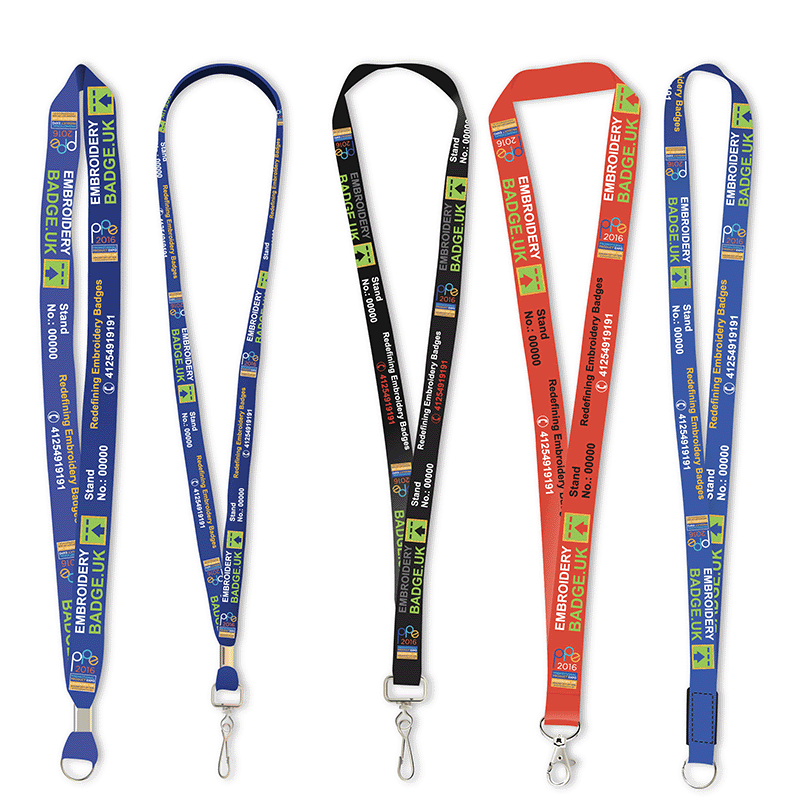 Sublimated Lanyards are commonly used by corporate companies and festivals to increase visibility and brand awareness. Make a real impression with our Sublimated Lanyards over plain lanyards. We offer T1 – Polyester – 5% PET Recycled, T1 + Reflective Tape: Safety Tape, T9 – Polyester, T10 – 100% PET Recycled, T24 (T1+T9) – Two Sewn Tapes and T8 – Flat Ribbed Polyester as fabric options. You can pick from a 4/4 randomised print on both sides, 4/4 positional print and even one sided print!
We offer a simple ordering platform for you to place an order on the website with no fuss and hassle; waiting for the quotation.
What is the minimum order quantity?
Our minimum order quantity is 100 lanyards, although the prices do drastically decrease as you order more. A lot of our customers order a higher quantity.
Can I order more than one logo to make up the 100 lanyards?
The minimum order quantity is 100 pcs PER design so if you want to order 2 designs you need to make sure that they are a minimum of 100 pcs each design. This includes and design changes, fabric, colours, lining, labels or size.
Can I amend at any time?
Yes. At Embroidery Badge we give you complete control over amendments up until the digital mockup approval to avoid surprises. You can, however, amend after this stage, although a charge may occur.
Can I cancel at any time?
You can, without charge, at the digital mockup stage. Once you have approved this stage and paid the setup charge of £42 for a physical/production sample you can cancel and the setup charge of £42 is non refundable. Once you have approved the physical/production sample stage and payment is made in full the £42 will be deducted from this. If, however, you wish to cancel at this stage you will be liable for all costs incurred, (the set up charge £42, postage if applicable and the final invoice charge).
Can I add any artwork?
Virtually yes! But please provide a high resolution image such as a jpeg or png files, if not ai or pdf files can be used.
We will then send you a high resolution digital mockup for approval and with our experienced customer service and digitising teams will work with you to achieve your desired result.
Can I repeat orders?
Yes! Information will be stored on your online account.
Can I get a sample of my lanyard before I fully order?
99% of our customers are happy to digital and production approve from a photograph of their tie. If you want to order a sample tie before a full order then the cost is as follows:- £30 + VAT + tracked and signed postage from Brentwood UK to your destination. Please note that an actual physical sample request adds up to 9 days to your final delivery.
What is Digital Mock-up approval?
When you place an order, we have a 2 stage approval process. In the digital mock-up approval step we create a photograph of a computer generated mockup, the idea is to ensure that elements in the artwork are present and this will require your first approval. Please ensure that each element of your bespoke tie is correct, if not amend it. Amendments at this stage are free and the process will revert back to an amended computer generated mockup. Please be aware each amendment can cause a delay. Once you first approve, this will trigger the production/physical sample approval step.
What is production/physical sample approval?
Once you first approve, this will trigger the second approval step and we create a photograph of your actual tie. Any amendments at this stage will be chargeable and the process will revert back to an amended computer generated digital mockup, which will require your first approval, followed by a second approval. Please be aware that an amendment at this stage will cause a delay. Once you second approve, this will trigger production or you can request up to four sample badges.
How can I contact you for help?
Use our LiveChat (open from 9am-9pm) Greenwich Mean Time. If we do not answer please leave a message. Or email sales@embroiderybadge.uk. Or call on 0800 368 7414.
Ready to Start?
We are trusted to delivery quality badges by over 10,000 companies worldwide.