35+ YEARS
of embroidery experience

FREE DESIGN HELP
we have you covered

WE SHIP WORLDWIDE
£7 Shipping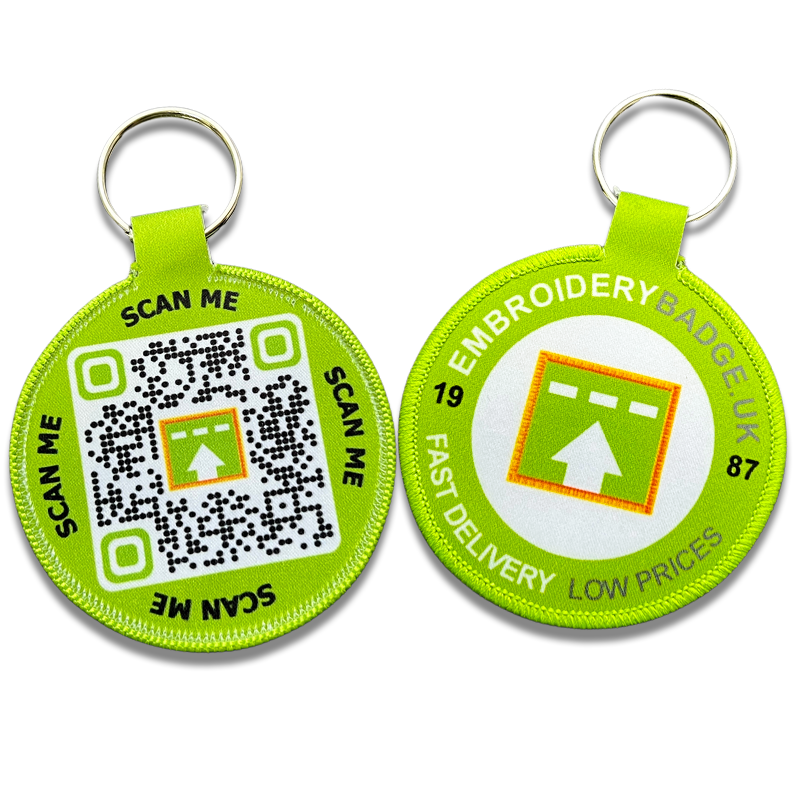 Discover EmbroideryBadge.uk, your ultimate destination for custom sublimation printed keychains designed to amplify your brand's presence. Our expert team provides personalized keyrings and promotional keychains tailored to your needs, ensuring your business or event stands out. Our advanced sublimation process creates vibrant, durable images that won't crack or fade. As a leading custom keychain provider, we prioritize quality, customer satisfaction, and timely service, offering bulk and wholesale options for all order sizes. Our user-friendly ordering process, customization choices, and eco-conscious approach make us the top choice for your custom keychain needs. Contact us today for a free quote and experience the EmbroideryBadge.uk difference.
Delivery: 07 – 10 days.
Looking for a different product? Check out our Woven keyrings, Embroidered keyrings, and Soft PVC keyrings
Welcome to EmbroideryBadge.uk, the top choice for custom sublimation printed keychains designed to make your brand stand out. Our expert team delivers a wide range of personalized keyrings, promotional keychains, and branded keyrings tailored to your needs, ensuring lasting impressions.
Our state-of-the-art sublimation process creates vibrant, high-resolution images that won't crack or fade, perfect for businesses, events, or personal use. As a leading custom keychain printing supplier, we prioritize quality, customer satisfaction, and timely service. Our bulk and wholesale offerings cater to both large and small orders with equal care.
Our user-friendly ordering process and customization options make it easy to bring your project to life. We're committed to environmental responsibility, continuously improving our processes and materials to minimize our impact while maintaining top-notch service.
To order your Sublimation keyring, follow these simple steps:

Name your project to make it easy to identify.
Choose between single-sided or double-sided keyrings, and remember to keep colours and details to a minimum to ensure the best quality outcome. For double-sided designs, select a standard simple shape.
Select the quantity you need to match your budget and requirements.
Upload your desired image or logo to be featured on your keyring.
We will create a free mockup and send you a final quote for your approval before production begins.
Once you have approved the mockup and paid for your order, we will begin the production process and create one sample of your Custom printed keyring. This sample will give you complete peace of mind, as you will know exactly how the final product will look.
After you have approved the sample, we will proceed with the rest of your order, ensuring that each keyring is of the highest quality.

Ordering your custom Soft PVC Keyring has never been easier!
Frequently Asked Questions About Promotional and Sublimation Keyrings
Are you searching for custom promotional or sublimation keyrings in the UK? Check out our frequently asked questions to help you make an informed decision and feel confident about your purchase.
What is the minimum order quantity for custom keyrings? We require a minimum order of 100 pieces, with bulk orders offering lower prices per piece.
Can I order multiple artwork designs for 100 keyrings? Yes, as long as you order at least 100 pieces per design and colorway.
Can I amend or cancel my order? You can make changes or cancel without charge before digital mockup approval. After that stage, charges may apply.
Can I submit any artwork for my keyring? Yes, upload high-resolution images like jpeg, png, ai, or pdf files, and we'll send a digital mockup for approval.
Are repeat orders possible? Yes, your previous orders are saved in your account, making reordering easy.
What size options are available for keyrings? Choose any size between 20mm to 120mm, keeping lettering at least 1mm high for visibility.
Can you match Pantone colors for my keyring? We can match Pantone shades with up to a 95% accuracy.
Will I see a photo of the finished keyring before confirming an order? Yes, our 2-stage approval process includes a photo of the final product.
Can you replicate an existing keyring from another supplier? Yes, provide all necessary details and a clear image or high-resolution file, and we can match the design.
Can I request a keyring sample before placing a full order? Most customers are satisfied with digital and production photo approvals, but physical samples are available for an additional cost and may extend the final delivery time.
Ready to Start?
We are trusted by over 10,000 companies worldwide to deliver high-quality custom patches.