35+ YEARS
of embroidery experience

FREE DESIGN HELP
we have you covered

WE SHIP WORLDWIDE
£7 Shipping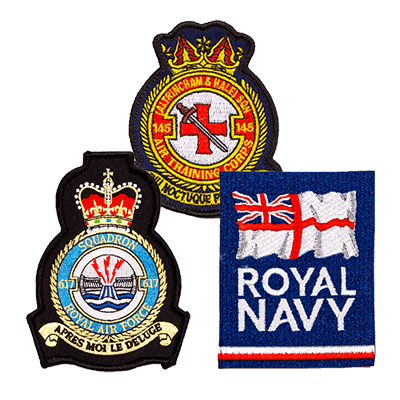 Custom Military Badges & Patches: Fast Turnaround on Army, Navy, Air Force & Cadet Patches
Welcome to EmbroideryBadge.UK: The premier military patch supplier and manufacturer of high-quality, custom military badges and patches, including army patches, navy badges, air force patches, and cadet badges.
Exceptional custom badge quality and design
Our custom military badges and patches are not made in China – you must see our quality to believe it. Choose from various designs, materials, and colours, or collaborate with our experts to create a unique custom military badge or patch. Additionally, we can copy and improve your existing patches, ensuring a seamless transition and enhanced design.
Durable Velcro Patches
If you require Velcro badges, we make it a point to stitch on the Velcro backing rather than simply sticking them. Consequently, our custom military badges and patches are designed to withstand time, providing long-lasting durability and secure attachment.
Efficient Ordering and Delivery for military patches
Whether you require a small batch or a bulk order, our state-of-the-art order management system has a 2-stage approval process to ensure each custom military badge or patch reflects your military affiliation's values, tradition, and prestige. Moreover, we understand the importance of fast turnarounds and hassle-free repeat orders. Our embroidered patches and keyrings can be delivered in 7-9 working days, and woven patches in 12-15 working days after approval.
We have received glowing reviews for our badges. Request a quote with a free mockup today, and let us help you wear your military pride with honour.
Interested in epaulettes or rank sliders? Click here
Ready to Start?
We are trusted to delivery quality badges by over 10,000 companies worldwide.