OVER 3 DECADES
of embroidery experience

FREE DESIGN HELP
we have you covered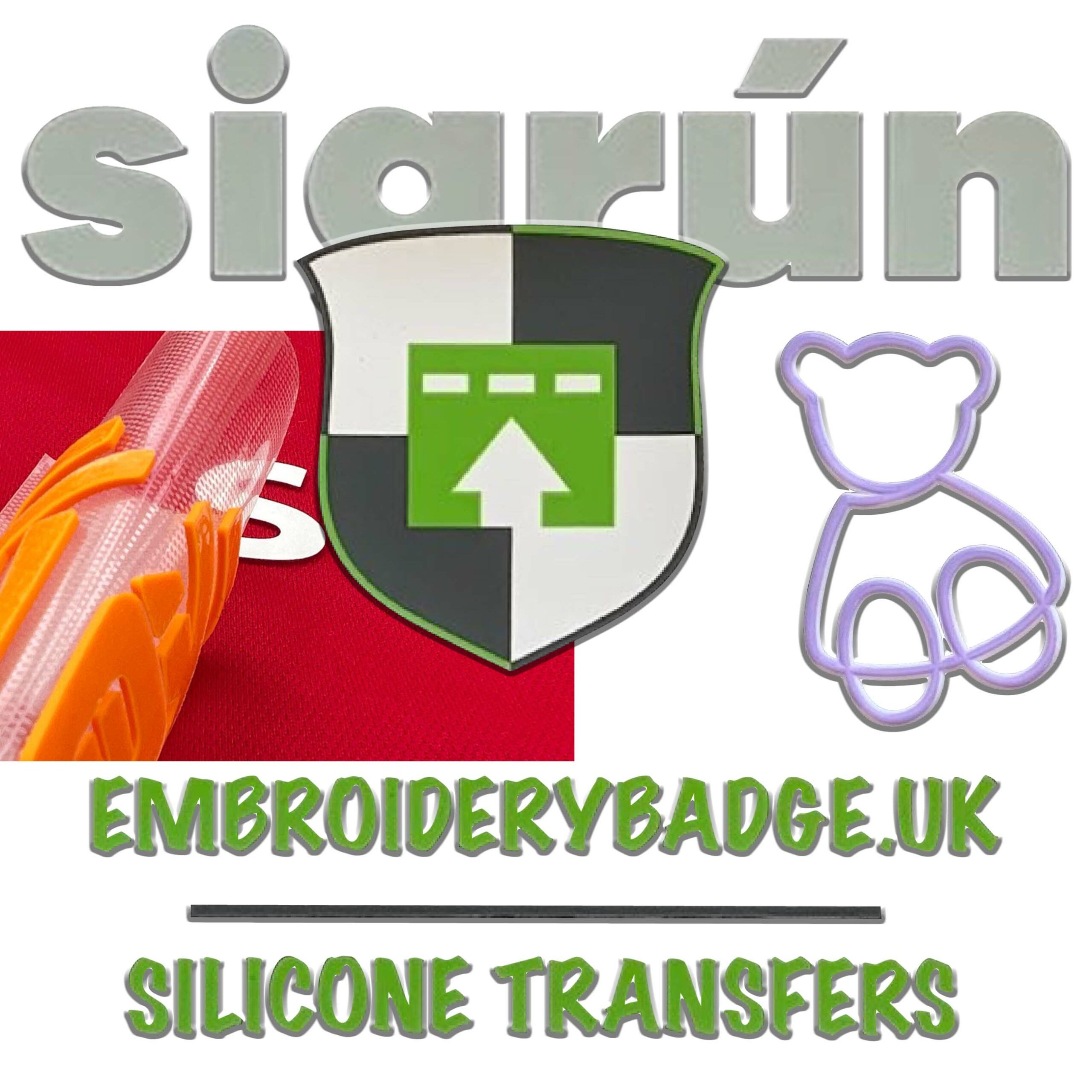 Raised Silicone Transfers embody a breakthrough in garment decoration technology, providing an appealing three-dimensional effect. Crafted from eco-friendly silicone material, these transfers use heat application to bind to the fabric securely. Their exceptional resilience offers lasting durability, maintaining their vivid colours and striking 3D appearance even after numerous washes. Offering an upscale touch to clothing items, Raised Silicone Transfers have a unique, soft, and rubbery texture that's gentle on the skin.
Not confined to a single application, Raised Silicone Transfers elevate a wide range of garments and accessories. They are an excellent choice for decorating sportswear, including jerseys and athletic gear, as their robustness can withstand intensive physical activity. Their versatility extends to casual wear like T-shirts, sweatshirts, or hats, adding a touch of sophistication. Furthermore, Raised Silicone Transfers can enrich accessories such as backpacks and handbags, thus creating personalized items that stand out.
At Embroidery Badge UK, we pride ourselves on delivering the highest quality Raised Silicone Transfers. We source our products from industry-leading manufacturers, ensuring their durability, colour vibrancy, and tactile appeal. Our expert team is committed to providing excellent customer service and professional advice, assisting you in selecting the best transfers for your project. We promise an easy, hassle-free shopping experience with us. Trust us to add a striking 3D touch to your garments and accessories with our top-notch Raised Silicone Transfers.
Minimum Order Quantity: 100 pcs.
Delivery: 14 – 21 days.
Approximate Pricing: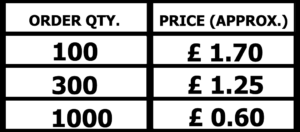 Please make sure when you're using these transfers to ONLY peel when they've cooled down!
What is the minimum order quantity?
Our minimum order quantity is 100 badges.
P.S: When you order large quantities the price per piece is cheaper. A lot of our customers order in bulk and use the extras on additional garments or products like gym bags, beanies, hats, towels etc.
Can I order more than one logo to make up the 100 badges?
The minimum order quantity is 100 pcs. If you want to order 2 or more designs you will need to order a minimum of 100 pcs for each design. This includes any design changes, colours, borders, base or size.
Are all designs suitable for a Raised Silicone Transfer?
Raised Silicone transfers work on most designs try and stick to lesser colours for a better price – You can also have the negative areas in your artwork as show through.
We can match most Pantone shades, with the exception of metallic colours.
Can I amend my order at any time?
Yes, at Embroidery Badge UK we give you complete control over your order. You can make amendments to your order prior to the digital mockup approval. Post this stage if you want to still make amendments you will incur a charge for the same.
Can I cancel at any time?
You can cancel your order without a charge at the digital mockup stage.
Once you have approved this stage you will be asked to make a non-refundable payment of £42 for a physical/production sample. Once you have approved the physical sample/production scan and you wish to cancel the order you will be liable for all costs incurred (such as the setup charge of £42, postage if applicable and the final invoice charge).
Can I add any artwork?
Yes, Kindly upload a high-resolution image such as a .jpeg or .png file. You can also upload .ai and .pdf files.
Once we receive your artwork we will send you a high-resolution digital mockup for your approval.
Can I repeat orders?
Yes, you can place repeat orders from our system directly as your previous orders will be stored under your account with us.
What size can I choose?
A Raised Silicone transfer can go up to 19cms and the minimum is 50 mm.
What colours can I choose?
If you have Pantone colour references readily available with you, kindly share them as this will help us to colour match your transfers more accurately and speed up the process.
Can we match an existing badge or direct embroidery design?
Yes! All you have to do is let us know the specifications and the thread colours by stating the Pantone references or by using our high-resolution shade cards. Alternatively, post the existing badge to us and we'll match the colours as closely as possible for you.
How soon can I expect my order?
Embroidered, Chenille and 3D Puff are shipped within 10-12 working days. Repeats orders are shipped from 7-9 working days. Please allow 2-3 weeks for woven badges. Specialists badges will vary. Raised Silicone Transfers usually take 14-21 days after final approval!
Can I see a photograph of the finished badge before I confirm an order?
In case of transfers they go straight to production after the mockup approval.
Can I get a sample of my badge before I fully order?
99% of our customers are happy with the digital mockup. If you want to order a sample transfer before a full order then the cost is as follows:- £35 + VAT + tracked and signed postage from Brentwood UK to your destination. Please note that an actual physical sample request adds around 7 days to your final delivery. On going ahead with the order your £35 + vat payment is adjusted against the balance payment BUT the postage is non-refundable.
What is Digital Mock-up approval?
When you place an order, we have a Digital mock-up approval process. In the digital mock-up approval step we create a photograph of a computer-generated mockup, the idea is to ensure that elements in the artwork are present and this will require your approval. Please ensure that each element of your bespoke transfer is correct, if not amend it. Amendments at this stage are free and the process will revert back to an amended computer-generated mockup. Please be aware each amendment can cause a delay. Once you first approve, this will trigger the production step.
What is production/physical sample approval?
Once you approve, this will trigger production or you can request up to four sample badges.
How can I contact you for help?
Use our LiveChat (open from 9 am-9 pm) Greenwich Mean Time. If we do not answer please leave a message. Or email sales@embroiderybadge.uk. Or call on 0800 368 7414 (open 9 am-5 pm) Greenwich Mean Time.
Ready to Start?
We are trusted to deliver quality badges by over 10,000 companies worldwide.