Sublimation Badges bring an explosion of colour and detail to garment embellishments. Utilizing a heat-sensitive ink process, these badges reproduce intricate designs in stunning, full-colour detail. The dye sublimation process ensured a vibrant, crisp image on the surface and infused into the fabric. This results in a sublimation badge resistant to fading and wear, even with frequent use.
Suitable for various garments and accessories, sublimation patches are particularly favoured where high-definition imagery is essential. Ideal for corporate branding or detailed artwork on uniforms, jackets, caps, or bags, they give a high-end, professional touch. With their superior graphics and durability, these sublimation patches are also popular for sportswear and promotional merchandise, effortlessly enduring the rigours of daily use.
At our store, we take pride in offering the best Sublimation Badges on the market. Our badges are manufactured by trusted partners who ensure premium quality and durability. Our team is dedicated to providing unparalleled customer service, offering advice and guidance to ensure you get the perfect badge for your needs. Shop with us for the most vibrant, high-definition sublimated badges, and elevate your garments and accessories to the next level.
Minimum Order Quantity: 25 pcs.
Delivery: Super-fast! 07 days.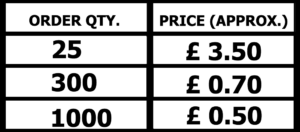 Explore our Sublimated Lanyards!