35+ YEARS
of embroidery experience

FREE DESIGN HELP
we have you covered

WE SHIP WORLDWIDE
£7 Shipping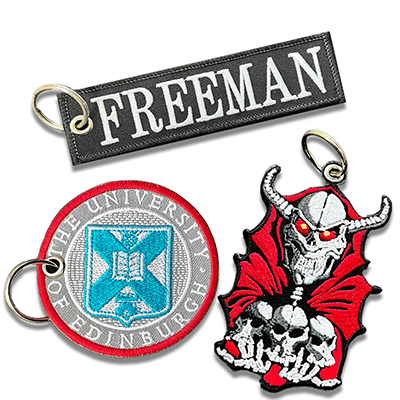 Custom Embroidered Promotional Keychains
Looking for high-quality embroidered keyrings or promotional keychains to promote your business or event? Then look no further than EmbroideryBadge.uk: Your Trusted Source for Custom Embroidered Keychains & Promotional Keyrings
Dedicated to quality craftsmanship and ethical sourcing, we offer an extensive range of promotional keychains, branded keyrings, and logo keychains tailored to your specific requirements.
Our environmentally friendly approach ensures we provide eco-conscious clients with the option to order keyrings made from 100% recycled threads. As a trusted name in the industry, we specialize in delivering bulk keychains and wholesale embroidered keyrings for corporate, business, and event keyings designed to promote your brand and enhance your professional image.
Choose EmbroideryBadge.uk for all your custom embroidered keychains and keyring needs, and experience the benefits of our commitment to excellence, sustainability, and customer satisfaction. Contact us today for a free quote and highlight your brand with our high-quality, environmentally responsible products.
Minimum Order Quantity: 25 pcs.
Delivery: 07 – 10 days.
We also offer Sublimated keyrings, Soft PVC keyrings, and Woven Keyrings
  Custom Embroidered Promotional Keyrings
Discover top-notch embroidered keyrings and keychains at EmbroideryBadge.uk! With 30+ years of experience, we offer custom, durable products perfect for promotion, events, or identification. With ethically sourced products including keychains made out of 100% recycled thread let us help you create your mockups for free, Request a free quote and experience our quality difference.
How to Order Custom Embroidered Keychains:
Choose your design: Select or create a unique design for your promotional keychains, featuring your brand's logo or any other desired artwork.
Select keychain size: Determine the optimal size for your embroidered keyrings, ensuring they stand out while remaining practical.
Pick your embroidery colors: Choose the perfect thread colors to complement your design and make your custom keychains visually appealing.
Determine the order quantity: Decide on the number of branded keyrings needed for your event, marketing campaign, or corporate giveaway.
Request a quote: Contact us for a free, no-obligation quote for your bulk keychains or wholesale embroidered keyrings.
Review and approve the sample: Before mass production, review the sample embroidered keychain to ensure it meets your expectations and approve it for manufacturing.
Confirm production and delivery: Place your order, and we'll provide an estimated production and delivery timeline for your custom embroidered keychains.
By following these simple steps, you'll receive high-quality promotional keychains that effectively showcase your brand and leave a lasting impression on your target audience.
Frequently Asked Questions About Custom Embroidered Keychains
Looking for the perfect custom embroidered keychains for your needs? We have compiled a list of frequently asked questions to help you make an informed decision and have confidence in your purchase.
What is the minimum order quantity for embroidered keychains?
Our minimum order quantity is 100 pieces. Ordering in larger quantities lowers the price per piece, allowing customers to use the extras as promotional keychains, giveaways, or tags for additional items.
Can I include multiple designs in my order of 100 embroidered keyrings?
Yes, you can order two or more designs, but each must have a minimum of 100 pieces per colourway. This includes any variations in design, colours, borders, base, or size.
When can I make changes to my promotional keychain order?
You can amend your order before approving the digital mockup. After this stage, amendments may incur a charge. Once the order enters production, no changes can be made.
Can I cancel my embroidered keychain order at any time?
You can cancel your order without a charge at the digital mockup stage. Upon approval of the digital mockup, you'll be asked to make a non-refundable payment for a physical/production sample. If you approve the physical sample and decide to cancel, you'll be responsible for all incurred costs.
Can I add any artwork to my custom keychains?
Yes, upload a high-resolution image (e.g., jpeg, png, ai, or pdf file) of the artwork you'd like us to create. We'll send a high-resolution digital mockup for your approval.
Can I reorder custom embroidered keyrings?
Yes, you can place repeat orders through our system, as your previous orders are stored under your account.
What size options are available for embroidered keychains?
Choose any size between 20mm and 120mm. Ensure that lettering is at least 1mm high for visibility.
What colour options do you offer for promotional keyrings?
We can closely match Pantone shades with up to 95% accuracy.
Will I see a photo of the finished keyring before confirming my order?
Yes, our 2-stage approval process includes a photo of the final produced product for your review.
Can you replicate an embroidered keychain I ordered from another supplier?
Yes, provide details such as size and colours, as well as a clear, aerial-angle photo of the existing keychain or a high-resolution file of new badge designs. Pantone references are a bonus. After creating a computer-generated digital mockup and receiving your approval, we'll proceed with the production/physical sample approval process.
Can I receive a sample keyring before placing a full order?
While 99% of customers are satisfied with digital and production approval via photos, you can request a physical sample for £35 + VAT + tracked and signed postage. Requesting a physical sample adds up to 9 days to the final delivery. If you proceed with the full order, the £35 + VAT (if applicable) will be deducted from the final order.
Ready to begin?
Join over 10,000 satisfied businesses worldwide who trust EmbroideryBadge.uk for exceptional promotional keyrings. Elevate your branding now and experience our top-quality craftsmanship for yourself!