Choosing the Ideal Border: Merrow vs. Satin Stitch for Woven Badges
Choosing the right border for woven oatches is a pivotal decision impacts aesthetics, functionality, and application. The choice often boils down to the traditional Merrow border versus the contemporary Satin Stitch. What patches for clothes are the best for my brand?
Satin Stitch Border: A Modern, Premium Finish
Satin Stitch borders, characterized by intricate designs, offer a premium and modern finish, thanks to advancements in laser cutting. They provide versatility, making them ideal for embroidered patches. Satin Stitch borders symbolize sophistication and precision, especially suited for intricate designs requiring a sophisticated touch.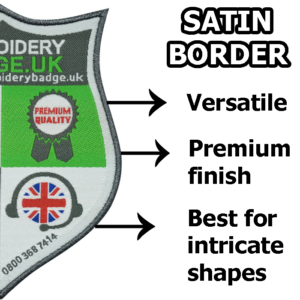 Merrow Border: The Traditional Choice
The Merrow border, renowned for its durability and classic aesthetic, presents challenges. While suitable for symmetrical designs, it struggles with complex shapes due to its rigid structure and the need for tiny overlaps to seal off the overlocking. Despite these challenges, it remains a popular traditional choice.
Application & Selection
Satin Stitch Borders shine in the realm of iron-on badges or those applied via heat press, offering a rich, sophisticated finish that elevates the badge's overall appeal. Conversely, for badges applied using an embroidery machine, opting for a borderless design emphasizes versatility in application, accommodating a wide array of patch shapes and sizes.
The Evolution of Badge Borders
The shift from traditional Merrow to modern Satin Stitch and versatile No Border epitomizes the advancements in embroidered badge design. This evolution ensures effectiveness not only in aesthetics but also in functionality. Embracing modern techniques while appreciating the heritage of traditional methods paves the way for innovative and visually appealing woven patches.
For a more comprehensive understanding of all patches for clothes and to find the perfect match for your designs, we invite you to explore our in-depth guide. Delve into selecting ideal borders for woven patches, where tradition meets innovation and artistry meets precision.