Gone are the days when embroidery was limited to two main choices – direct embroidery or embroidered badges. As technology has advanced, various choices have since evolved – woven, sublimation, combination, and enamel, to name a few. This post will outline everything you need about woven patches and badges.
We'll cover the following:
What are Woven Badges?
Borders on Woven Patches
The Complexity of Woven Patches
The Pros and Cons of Woven Badges
A Summary
What are Woven Badges?
Woven patches and badges are multiple sets of threads interlaced to form a surface that illustrates your design.
The production requires you to physically 'weave' the design into the patch using a loom. Hence the name 'woven.' Woven patches are a top option to achieve photorealism. They're great for:
Human/animal faces.
Landscapes.
Cars/motorcycles.
Brilliant shading and gradients.
You never have to worry about the embroidery percentage or thread count as all the threads are 'woven' together and not sewn on a felt/twill base like embroidered badges. Woven Patches use much thinner threads than embroidered ones do. These patches are stitched continuously to achieve finer detail of the design/text of the patch.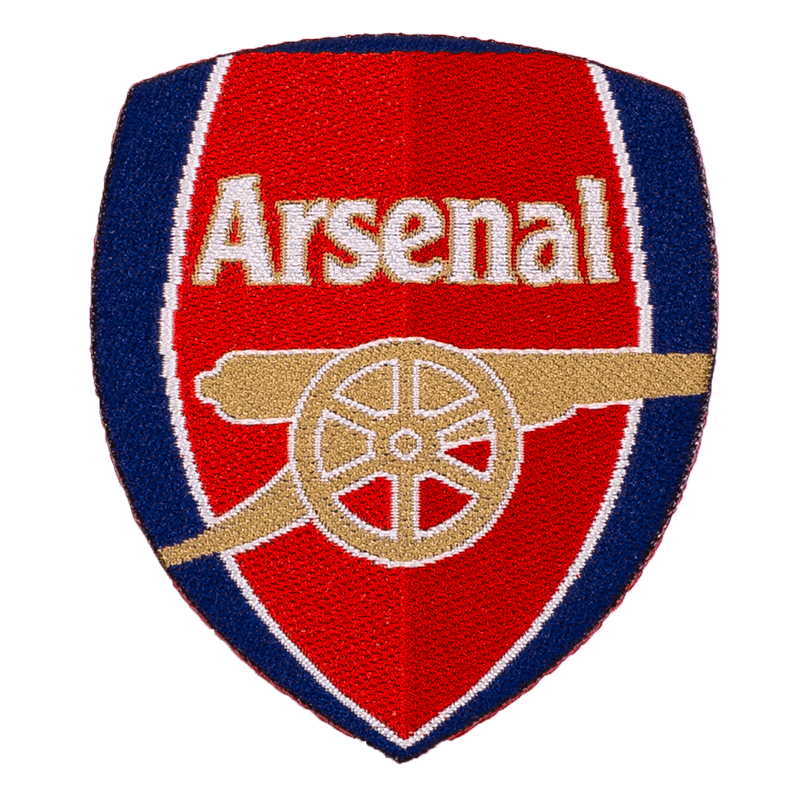 Borders on Woven Patches
Woven badges with overlocked edges and laser-cut ones can be produced and are great to attach to bags, shoes, and garments.
The Overlock Method
Also called a "merrow border", this product is stitching around all the edges of the badge. This type of stitched edging can be done in different colours, either complimenting or in the same general colour scheme to make the design more aesthetically pleasing on your woven patch.
A laser-cut edge is a heat-sealed edge that can accommodate a wide spectrum of intricate shapes. For patches with extremely complex edges, such as waves, that are difficult to overlock, we recommend simple laser cutting (die-cutting).
Satin Stitch Border
A woven badge can feature an embroidered stitch border around the edge that gives a professional finish and allows it to stand out. You won't see this option with many badge suppliers, as it requires a good deal of accuracy. However, at Embroidery Badge UK we're experts and have vast experience in this field.
Applique
A woven badge can also be attached to a garment via a satin stitch border called the applique method. Most of the football team logos are done this way.
The Complexity of Woven Patches
Since a woven patch uses thinner threads, it is ideal when a design is too detailed or complex to be achieved with the embroidery process. These badges are the perfect solution for needing the extra fine detail that embroidered badges can't provide. They show small lettering too, which may not reproduce well on embroidered badges. If you are looking for highly complex art, sublimation patches can be a better option.
How to Attach Woven Patches to a Product?
There are a few methods of attaching a badge to products. Please Refer to our 5 Best Techniques to Apply Patches Blog to learn more!
So here are some YouTube videos:
The Pros and Cons of Woven Badges
Now that we're clear on what a woven patch is and how to attach it let's go over its advantages and disadvantages.
Pros
Woven badges have a nicer feel overall. They are smoother and more comfortable.
These badges can accommodate a lot of small details. This gives you room to involve more intricate designs in your logo.
The text size of a woven badge can be as small as 1.2 mm.
These types of badges are lightweight.
Since the production is entirely different from embroidery badges, the result is extremely flat, providing uniformity throughout the design.
You can use heat seal backings for woven patches and badges, making this an extremely simple and easy application method.
Cons
These badges can take from 2-3 weeks to be delivered. A great alternative for faster delivery is sublimation badges that can be delivered in 7 days.
Because of their uniqueness, the price point is higher for smaller volumes.
The colours are subdued as the threads are woven into the fabric. So, they don't have the 3D effect as embroidery.
The minimum badge order quantity on our website is 100 pcs.

Due to the nature of weaving, sometimes there must be a 1-3 mm tolerance in the border. The fantastic solution to this problem is to add a thin satin stitch embroidered outer border, which will maintain the design's integrity and add an extra dimension to the badge's appearance.
A Summary
Woven badges can be a more cost-effective option, particularly when ordering in volume. When choosing between embroidered or woven patches, remember that while you will get extra fine detail, you will miss out on the textured 3D effect that embroidery offers.
Pro tip: If a textured effect is required, you can always place an order for a combination type badge where the small text and extra fine details are woven and the large text and designs are embroidered!
A few options to consider when considering your order, such as border type and backing, affect the price slightly; however, decisions should be based on the badge's use and shape.
Woven badges are a great option if your design has a lot of small text and detail. Embroidery badges are better for designs with large text and will not be able to deliver small detail without compromising on the overall look of the badge.
For intricate designs where embroidery badges are not viable, woven patches and badges would be adequate for garments that go through a lot of wear and tear. For example, football jerseys, activewear, and sportswear. This is because they will not fade or come off if it's sealed or sewn on. Here, picking the cheapest option might not serve your purpose.
Choose Embroidery Badge UK For Your Woven Badges
And as we've mentioned, ensuring you get the right product is crucial to the result of your garments. If you choose the wrong method, your designs won't be as striking as possible. That's where Embroidery Badge can help.
And our team are vastly experienced and are expert in their field. So if you're unsure which method is right for your product, our team is always available to answer any questions or queries. Or, why not download our free guide that outlines which badge type is right for you? Grab your copy below and take the first step to producing a quality product.