From schoolwear to band merchandise, bag badges are used in various industries. It's not easy to come up with the perfect design for your badge. To help, we've selected our favorite 7 designs for inspiration. We've included a variety of badge types, so you can see the possibilities and get creative with your bag branding.
We'll cover the following:
School Logos and Crests
Sports Clubs Traditional Crests
University Society Logos
Band Merchandise
Unique Fashion bags
Workwear Branding
Favourite Quotes and Sayings
School Logos and Crests
Bookbags, rucksacks or even drawstring gym bags – both primary and secondary schools use bags as a part of their wider uniform. These bags will usually display their logo and crest proudly so that people can see who their students belong to. For this reason, you'll want your bag badges to look as professional as possible, right?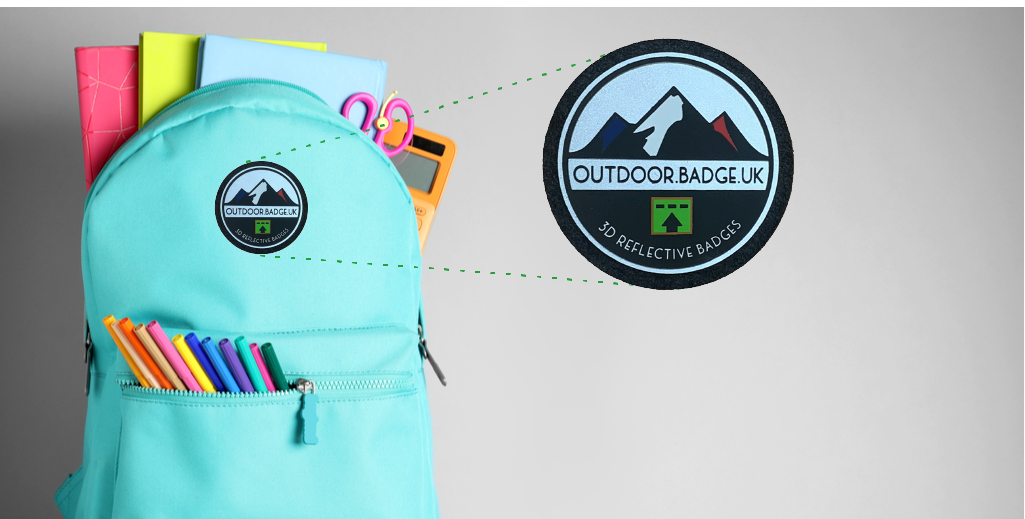 Schools often have a rich heritage and history proudly represented by their traditional crest. So, if their badges were poorly designed, it'd reflect terribly on the school. It'd connote views of a poorly run and unestablished organisation, which is the last thing schools want when trying to attract as many pupils as possible.
Embroidered badges have a regal and classy finish, which is the perfect way to reflect a school's status. Woven badges are also popular, perfect for intricate and finicky designs. If their crest needs a lot of detail, a woven badge will enhance the design perfectly.
Sports Clubs Traditional Crests
Like schools, sports clubs will have a team crest that they're proud to show off, whether it's professional or grassroots level. If it's poorly designed, it may be reflective of their performance, playing style or their history. Sports teams want to appear as established and successful as possible, so a perfectly designed badge bag is one way that they can do this.
Training bags, rucksacks and backpacks of favourite sports teams are incredibly common and popular, particularly in professional football clubs. People want to proudly show off who they support and want to do so by sporting the best designs they can. After all, who'd want to walk around sporting a cheap-looking and shoddy product?
Ordering a few extra badges for badging up bags when ordering badges for Teamwear kits is a great idea. You can save money by ordering more at once, while also promoting your brand through branded bags. These bags can be sold or given away as promotional items, attracting more attention to your brand and contributing to reducing plastic waste in the environment.
University Society Logos
Whether you've been a student or not, you'll undoubtedly notice a student society spreading awareness around a certain topic when walking through a city. Or, just noticed a piece of clothing or bag with the society logo on. Many of them belong to each university, so they have to make a conscious effort to stand out from the sea of others and grab the eye of people passing by.
This is where a quality-designed logo comes into play. And a superb logo is an excellent bag badge idea. Societies are always attending fairs and other events, so what better way to get themselves noticed by giving away a cool tote bag with a logo that people will use? Or, at least use it to carry all the other freebies that they receive from the event home in.
A clever bag badge could be the difference between a university society being noticed, or just blending in with the hundreds of others. It could also be the difference between people finding their perfect society to meet like-minded people, or just sitting around and procrastinating from their endless assignments all day.
Band Merchandise
Band merchandise is massively popular in the personalised badges world. After all, donning a personalised badge on your bag is a way of expressing your personality, so why not include your favourite song lyric, band name or album cover? These are all easily accessible bag badge designs that there'll always be a demand for.
Think about it, at the majority of gigs and concerts that you've ever been to, we bet that there's been a merchandise stall outside or inside the venue. They're proven to make a lot of money. Plus, in recent fashion trends, people have been known to walk around wearing t-shirts of bands that they'd never even listen to, but because the t-shirts are cool they were in fashion.
As vast as different music styles differ, a lot of people all share a love of music overall – and they're not afraid of showing their tastes off too.
Unique Fashion Bags
Bag badges and DTF prints offer a great way to promote your brand or business. Whether you're a fashion designer looking to showcase your unique designs or a small business looking for an effective marketing tool, custom bag badges and DTF prints can help you stand out from the competition.
These badges and prints not only offer a stylish and eye-catching way to showcase your personal style or brand, but they also provide a sustainable and eco-friendly alternative to traditional plastic bags. By using your own branded bags, you can help reduce the amount of plastic waste in the environment while promoting your brand or personal style.
From mandalas to abstract designs, you can pretty much create anything to put on a bag. Woven badges are great for detailing and can create fantastic results with even the most intricate designs. So whether you want to create a unique bag for yourself or promote your brand in a sustainable way, bag badges and DTF prints are an excellent choice. With endless design possibilities and a range of high-quality materials to choose from, the sky's the limit.
Workwear Branding
Customised uniform products are huge for various businesses spanning many industries. From plumbers to accountants, a personalised uniform can show that you're a successful, well-established business. However, don't be expecting to turn up to your accountants and spot them in some big boots and pocketed work pants – uniforms differ depending on the industry but bags are a common theme throughout.
From briefcases to tool bags, businesses like to personalise all of their uniform products. It doesn't matter whether they're on-site or on their dinner nipping to the shop, if your employees are wearing the uniform or carrying a personalised branded bag, they're a walking advert for their company. So, not only does it look professional but it's a great way to extend brand reach too.
Favourite Quotes and Sayings
Just like personal designs and favourite bands, displaying your most well-liked quotes on a bag badge is a great way of showing personality throughout your outfit. It can be your favourite one-liner from your number one sitcom, a well-known phrase that makes you smile every time or something completely personal, it's really up to you.
Think about the likes of "Keep Calm and Carry On" and all the different variations. How well have they done from such a simple yet effective design? Well, your favourite quote or saying could be the next big thing that everybody jumps on.
Quotes and sayings on bags are so simplistic, yet such a good way of putting your own spin on your items. Novelty bags always go down well, so there's always a demand for them. Meaning that, if you nail the quote or saying, there's a good chance that you'll get noticed as people walk by your stand or browse online. Or, at the very least, you will have brightened someone's day with your work.
Make Sure You Choose the Right Bag Badge Type
So, as you've just read, there are plenty of different ways that you can personalise your own bag badges. Well, it's one thing making sure that you've nailed down the design but you also need to choose the right method to really make it stand out. Choosing the wrong bag badge method could lead to your design not looking as good as expected.
So, with that in mind, grab your free copy of our guide that explores all things personalised badges and patches today and take the first step to creating the perfect bag badge for your business.